The great thing about art is it so easily makes a house a home. While many people believe art collecting is an expensive hobby, you'll be surprised at the number of beautiful and affordable pieces there are on the market these days. When buying art, there is only one golden rule: buy what you love. Your home is a representation of you, and what you put on your walls should reflect that.
However, there's nothing more intimidating than staring at a house full of blank walls and wondering how everything will come together. Perhaps you even have a stash of framed artwork and you're wondering how to group and display the pieces. Is it better to have one substantial item make a grand statement on a large wall, or are groupings of pictures the way to go? There are no hard and fast rules with artwork, but as with many areas of decor, it never hurts to gather a few tips and tricks that will help you get the most out of your own home's art installation!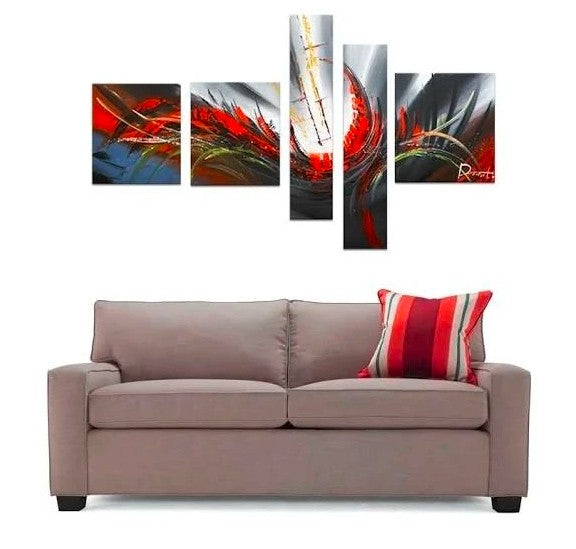 1. SELECTING WALL ART
Firstly, let it be said that art does not have to be behind glass or in a fancy frame. It can take the form of a sculpture, canvas, photography, macramé, weaving or even a child's drawing taped to the wall amongst many other formations.
In fact a varied collection across many different mediums is optimum and as long as you love it and enjoy staring at it, nothing else should really matter. But when it comes to selecting it, and looking for the most effective place to hang it, there are a few things that do need to be taken into serious consideration. A room's colour palette is one of these vital factors; colour is a very emotive force and can set the dominant mood in any room.
Artwork should always sit complimentary to the dominant tones in a room therefore keep this in mind or work back with a paint swatch when selecting key artworks if you have existing predominant hues on your walls or within your décor. Art should be used as a focal point for other decorative decisions in a room, such as choosing one colour from within the body of the artwork itself, and referencing it back with soft furnishings or other decorative objects for maximum impact.
This will make the room and the space feel connected and considered. Art doesn't have to match your lounge or furniture, however if, for example, you have mostly neutral tones in your home, hanging a brightly coloured piece of art with out adding any coordinating colour to the rest of the room won't work. Your artwork will always look better when the furniture and decor support the artwork; repeating colour that's in the artwork increases the artworks impact in the room and this is key when selecting artwork pieces.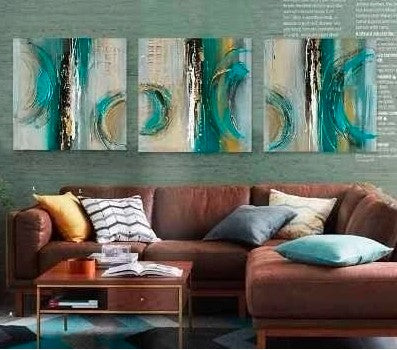 2. FRAMING WALL ART
Framing your art is an important consideration that can make or break the overall look you are trying to achieve, not to mention keep the work protected from an archival or sentimental perspective.
For limited-edition prints or photographs, "float" framing is one of the most popular methods – the works are adhered with tape to the back of the frame, hence the appearance of "floating" within the frame itself. Simple Birchwood frames are an effective way to set off artwork without taking away from it, but again this is a case of personal taste.
Sometimes a white or black frame may suit the wall better. Canvas works with a shadow-box frame also look "finished" and considered. Again the use of frames and the style of frames are entirely personal…whether you keep all the artwork in similar styles of frames or opt for a haphazard collection of varied styles is a decision that is entirely up to you!
For an alternative look, cork walls are all the rage currently and allow a more informal way to display less permanent tacked or washi-taped pieces of art without the need for framing everything within your space. As you'll soon discover, the creative possibilities are endless. And some of the most impressive wall art statements aren't framed at all!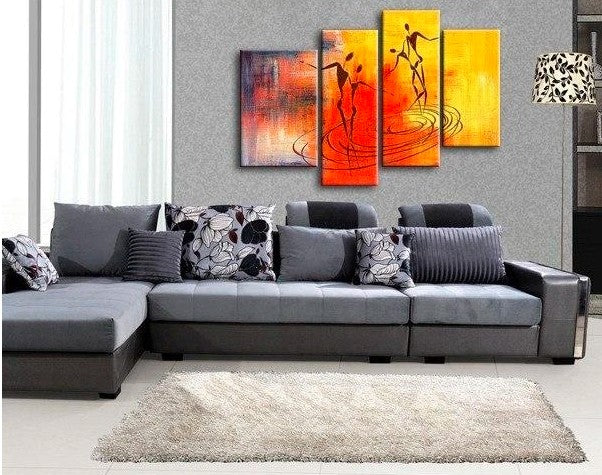 3. HANGING IT
Hanging art can be quite a science, particularly if clustering a gallery wall. Before you take hammer and nail to the wall, measure up the art and use masking tape to mimic the shape and size of the pieces on the wall in position. Then take a step back to ensure it feels spatially right and at eye level. Guessing doesn't cut it, and you don't want to be banging more holes in walls than necessary. If you rent and are unable to hammer nails, try the 3M hooks from hardware stores – they are fabulous, come in a variety of weight-bearing capacities, and don't mark the walls. Some vital things to consider when hanging in terms of interior style are:
1.If one item features a bold colour, choose other artwork in neutral tones. Neutral colours have the power to unite various pieces in the same room and work to create a harmonious balance.
2. A black and white colour scheme is a great way to coordinate artwork. Striking, classy and powerful, black and white pieces make a big statement without fighting one another for colourful attention. Black and white artwork tends to transcend a myriad of interior styles and artwork mediums.
3. It also helps to select artwork of a similar style, such as abstract pieces. No, you don't have to fill the space with works from the same artist, but it certainly helps if the pieces complement one another.
4. If you go bold, keep other things minimal. If you do choose to hang one large dominant artwork then make sure it remains the wow factor of your room. Consider keeping everything else simple. You don't want other items to compete with it.
5. As a general rule, you do not want the artwork to be larger than the piece of furniture it is hanging above, but at the same time you don't want it to small. The goal is to create balance. For example, if you have a huge wall running the length of your living area, don't adorn it with a small, single artwork. Instead, use a bigger artwork or group smaller pieces together.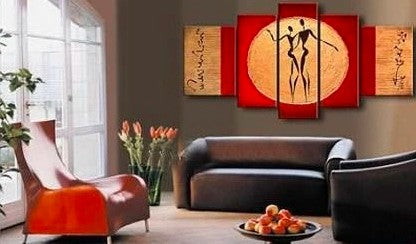 4. LASTLY
Artwork does not just enhance the appearance of its environment; it brings life and dimension to a space. It says something about you and makes the space more interesting for family, friends and guests.
Follow your heart - it sounds cheesy but it's good advice! "'Real'" art is an investment and a long-term commitment. Its essence is to generate emotions in the person or people who looks at it and live with it.
If a piece looks beautiful but you don't feel anything about it, move on. It's better to stare at a blank wall for a while than watching something that doesn't make your heart sing!